Lets be honest guys! Most of us have some seriously terrible CSGO skins in our inventories. They are basically useless and nobody wants them. The good news is there is a way you can upgrade skins to better ones. CSGO Skin Upgrade Sites such as Hellcase and DatDrop have an option to do this. Its a great feature especially as many case openings can give you skins that are pretty poor.
CSGO Skin Upgrade Sites We Recommend
To upgrade your skins you have to gamble them. Navigate your way to the Upgrade page of the site you are playing on. Once on that page you now will have to select the items you want to upgrade. You can use skins for this but some sites allow you to use your balance too or part balance/part skins. Next, you have to select the skins you want from the available list. You can affect the result using the roll over or roll under buttons. You can also choose a multiplier of your skins value. For example – If you have a skin worth $1 , if you click the 2x button you can win a skin worth $2, 5x a skin worth $5 etc. Obviously the higher the multiplier, the lower the chance of winning is. If you lose the roll, you lose your skins/money. If you win your items are automatically added to your inventory.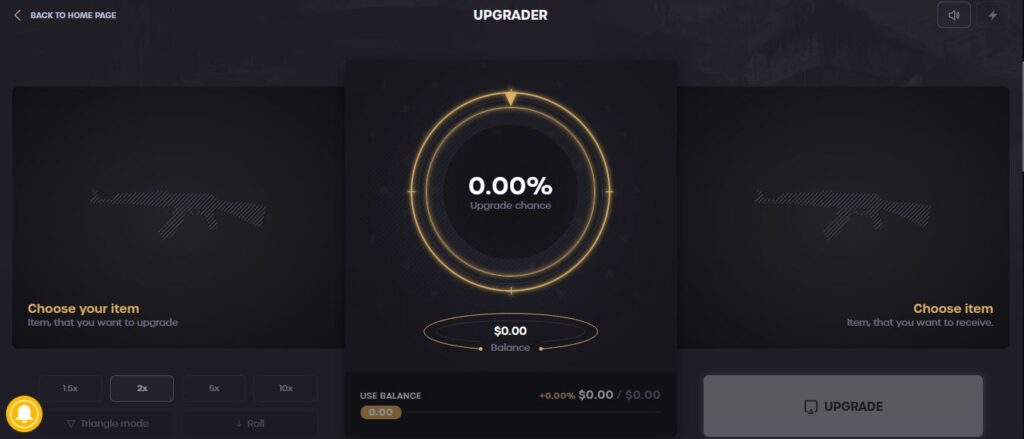 Conclusion
Upgrading your CSGO skins is good fun and can be very exciting but be realistic when you try to upgrade. More and more sites are offering upgrades because they can see that the players absolutely love it. The CSGO Skin Upgrade Sites you will find listed on this website are all fair and transparent so you can attempt an upgrade and it will all be fair, there wont be any funny business or dishonesty. Why not give it a go, you never know you might win some great skins.
FAQ
How To Upgrade CSGO Skins

How To Upgrade CSGO Account To Prime